Belize Home Owners Insurance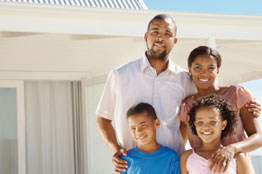 At RF&G Insurance, we offer protection for the roof over your head and everything under it! Our Homeowner's Insurance Policies protect you from loss or damage to both your home and its contents from a wide range of perils including Hurricane, Fire, Flood and even Burglary. Our policies were created with the customer in mind and are designed to suit the type of home you own.
The home that you live in will most likely be the largest investment you make, so be sure to protect it with an RF&G Homeowner's Policy. To be certain your home is adequately insured, get an appraisal or survey done on the building, and be sure to include any other structures such as a swimming pool, fence, patio, or pier. If you are unsure about how much your home should be insured for, contact us or any one of our Agents countrywide to help you make sure you are fully protected.
What's inside your home can be just as important as the walls and roof that make up the outside. Make a list of all your personal belongings and how much it would cost to replace them. It is important to have enough insurance to cover everything.
You might need to list valuable items separately. Some policies don't cover these items, or limit how much you can claim to replace them. A valuable item might be a big screen TV, a brand new Laptop, or paintings and other valuable pieces such as carvings, statues, jewelry, etc.
It is a good idea to have some photos, receipts, or other evidence of the value of the items you are insuring. This will help if you are making a claim by verifying what you had stated.
Do I need to insure my building to insure my contents?
If you rent your home or only need to insure your belongings, Home Contents Insurance can help.
Click on the tabs below to read more about each coverage:
Fire, Lightning, Explosion Only
This policy covers damages caused to your personal property by perils such as:
Fire (including bushfire)
Lightning
Explosion
The perils of hurricane, windstorm, flood, earthquake, volcanic eruption are not covered.